Nursing Opportunities With a Master's Degree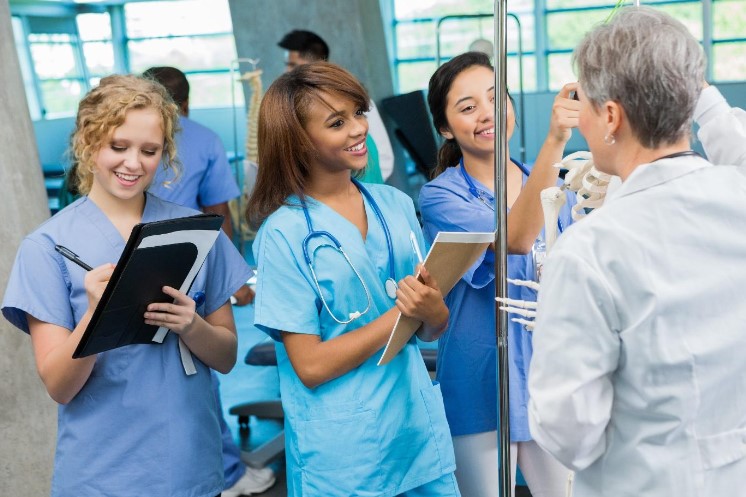 Although a master's degree is not necessary when they begin their healthcare journey, many nurses choose to pursue one to advance their careers. With high-level qualifications, there are new opportunities for working in specialist and leadership positions. Advanced study can develop knowledge and skills and lead to quality clinical practice. It takes dedication and commitment to study at this level, but the benefits include more job opportunities and a fulfilling career. Doing respected and interesting work also brings personal satisfaction.
The Master of Science in Nursing (MSN)
The MSN prepares nurses for advanced practice, nursing education, and leadership roles. MSN programs can be taken online, and take between two and four years to complete. The MSN program usually includes coursework in healthcare systems and policies, advanced nursing practice, nursing research, healthcare informatics, and nursing education. There are specialized options that prepare nurses for different careers. Here is a selection of MSN specialties:
Nurse educator

Clinical nurse leader

Forensic nurse

Specialized populations nurse
Graduates have the knowledge and skills to deliver advanced care, contribute to healthcare policy development, and become educators and leaders in healthcare. They may be eligible to get certification in their specialty area, which would enhance job opportunities. 
Cleveland State University offer an online MSN with several program options and a variety of possible career paths. Graduates are equipped with the knowledge and skills to provide advanced patient care, participate in developing healthcare policies, and serve as leaders and educators in the nursing profession. Find out what you can do with a master's in nursing here.
Day in the life of a nurse educator
Benny has been a nurse for about ten years. He did a master's degree and is now a nurse educator in the emergency department (ED) with about 130 staff. In ED, the staff do not know what is coming through the door. He works on the floor with other nurses to help them in their job and assist with training. His days at work are varied. He may be working in the fast-track area or teaching people how to use nitrous or gas. He could be working alongside new graduate nurses for a week. Benny attends meetings and recently attended one to look at new ventilators and plan training for the staff. 
Recently he was in an online meeting with some consultants, and afterward, he was pacing a patient who had had a bradycardia arrest. He investigates clinical incidents to see if anything more could have been done and if any mistakes were made. He likes to make his teaching relevant. This week he showed the staff a video about pacing, which not all of them knew about. He wants to make more videos and content that is patient-driven and plans to develop a resuscitation pack for the nurses he works with. 
Career fulfillment
For nurses with master's degrees, there are numerous advantages. There is a shortage of nurses and doctors, which means nurses with advanced degrees are in demand. Nursing staff with specialized skills are sought after by healthcare organizations and are more likely to gain long-term positions. Advanced qualifications can lead to benefits and higher salaries and provide financial security.
A master's degree can enable nurses to deliver quality patient care and make discerning clinical decisions. With their greater knowledge and skills, nurses can implement beneficial treatments and make accurate assessments. It can be satisfying for nurses to see the positive impact their work has on patients and feel their career is worthwhile.
Nurses often work long shifts and may work on holidays, nights, and weekends. With a master's degree, there is more chance of having a position with regular hours. For example, nurse researchers work regular hours. Further study and the resultant expertise can lead to professional respect and recognition from employers and colleagues. This can bring satisfaction at work and give nurses more confidence.
Potential careers with a master's degree
Clinical nurse leader (CNL): CNLs ensure high-quality patient healthcare through evidence-based practice, effective delivery models, and up-to-date theory and practice. They often care for a group of patients working closely with their teams and different departments. They play a vital role in improving patient outcomes and promoting patient safety. CNLs educate patients and their families on their health and meet with hospital department leaders for patient status updates. 
Specialized populations nurse (SPN): SPNs can specialize in working with particular groups, such as:
Substance abuse

Adolescent pregnancy

Psychological trauma

Specific communities 

Disabilities

Specific illnesses
Some SPNs improve patient care by implementing care programs for specific groups of patients. Other SPNs work in community health and social services using leadership skills to work with patients moving through the healthcare system. 
Forensic nurse (FN): FNs specialize in caring for victims of violent crime. They work closely with law enforcement and may examine victims of traumas, such as stabbings and shootings. They use legal and scientific procedures to collate evidence, such as DNA collected from bodies, clothes, and personal belongings, and present their findings in court. This evidence supports criminal investigation cases. They work to promote healing and address trauma while acting on patient concerns.
Nurse educator (NE): NEs specialize in educating students, nurses, and other healthcare staff. They develop, deliver, and evaluate educational programs and mentor and advise students, graduates, and working nurses. They keep up with new evidence and practices and include these when teaching. They advocate for the nursing profession and promote its values and purpose. NEs play an essential role in ensuring there is quality patient care aligned with the organization's aims and objectives. 
Nurses who complete an MSN will have the knowledge and skills to provide high-quality healthcare. They will be able to find challenging and rewarding work and take on leadership and specialist roles. The MSN offers specializations, allowing nurses to pursue their interests and gain expertise they can use in their next position. Nursing includes many different specialties, and with an MSN, nurses can take the opportunity to have a career in their chosen field.
Related Posts